A pergola in the garden or attached to the house
The aluminium pergola attached to the house comes handy if you want to cover your terrace. In this case, one side of the pergola leans on the wall of your house. This is not the only way to build a pergola, though. Pergolas can be built to stand independently in the garden and it also can be used as a carport. It is up to you and where you wish to place it and use it for.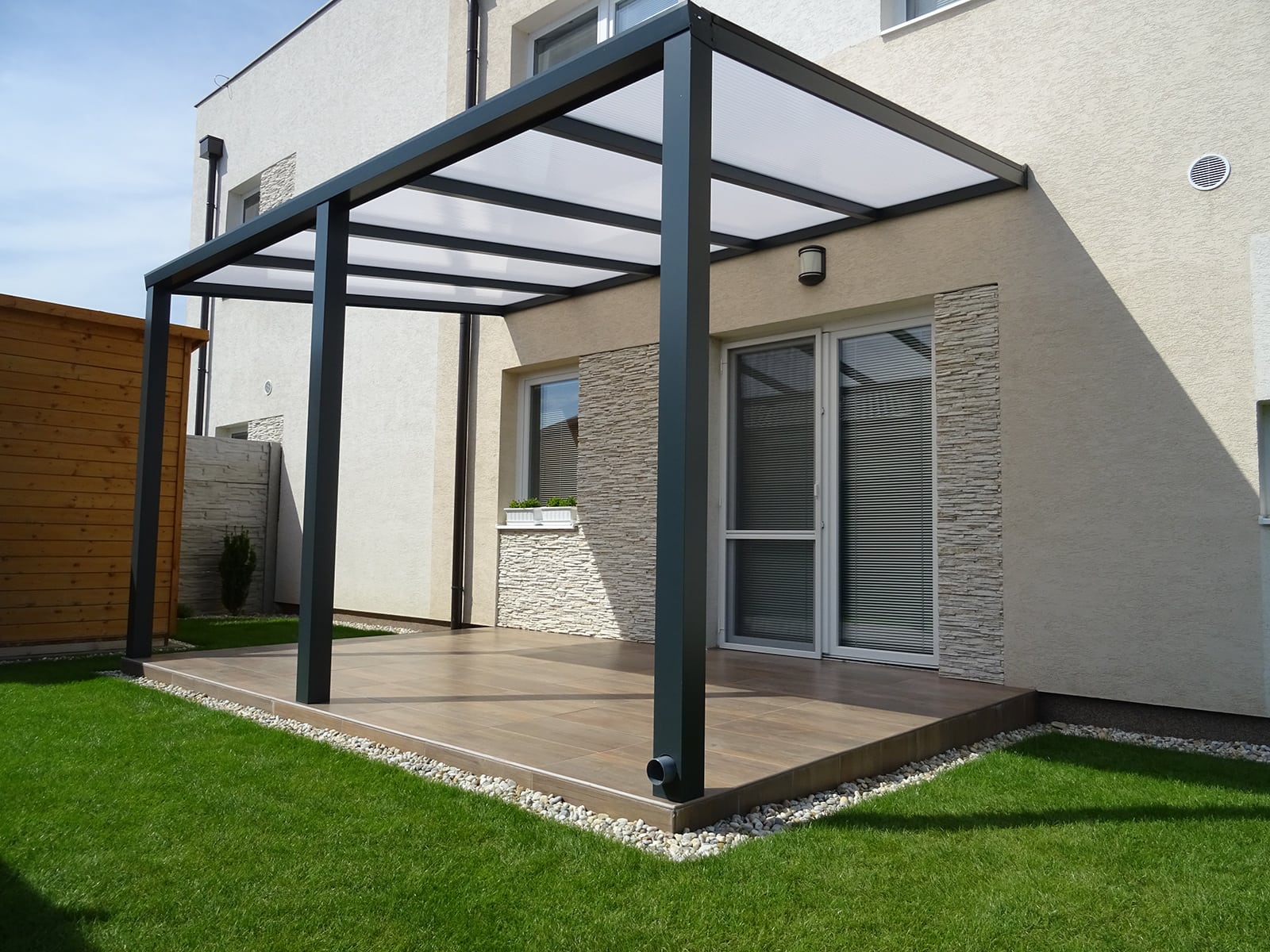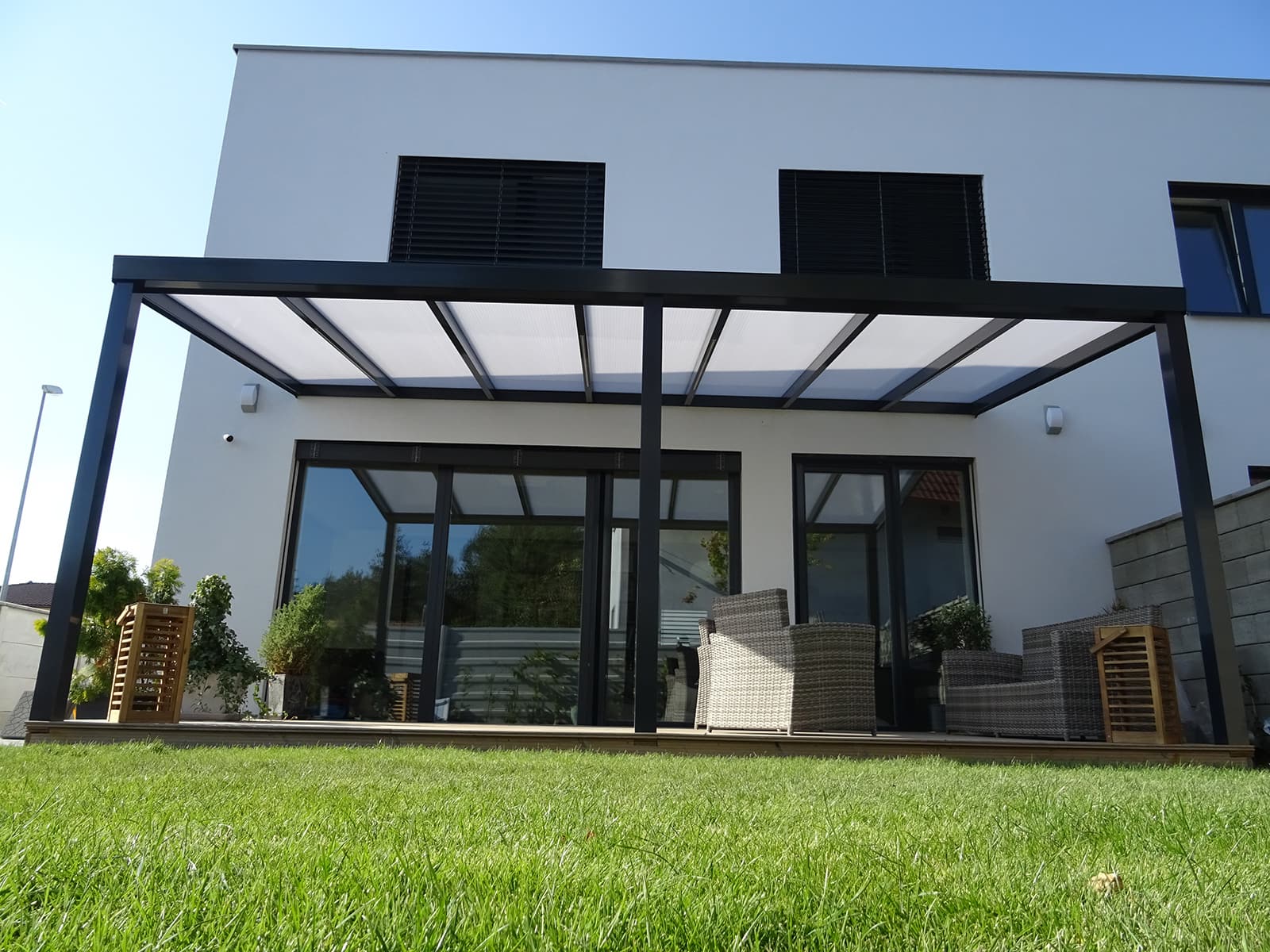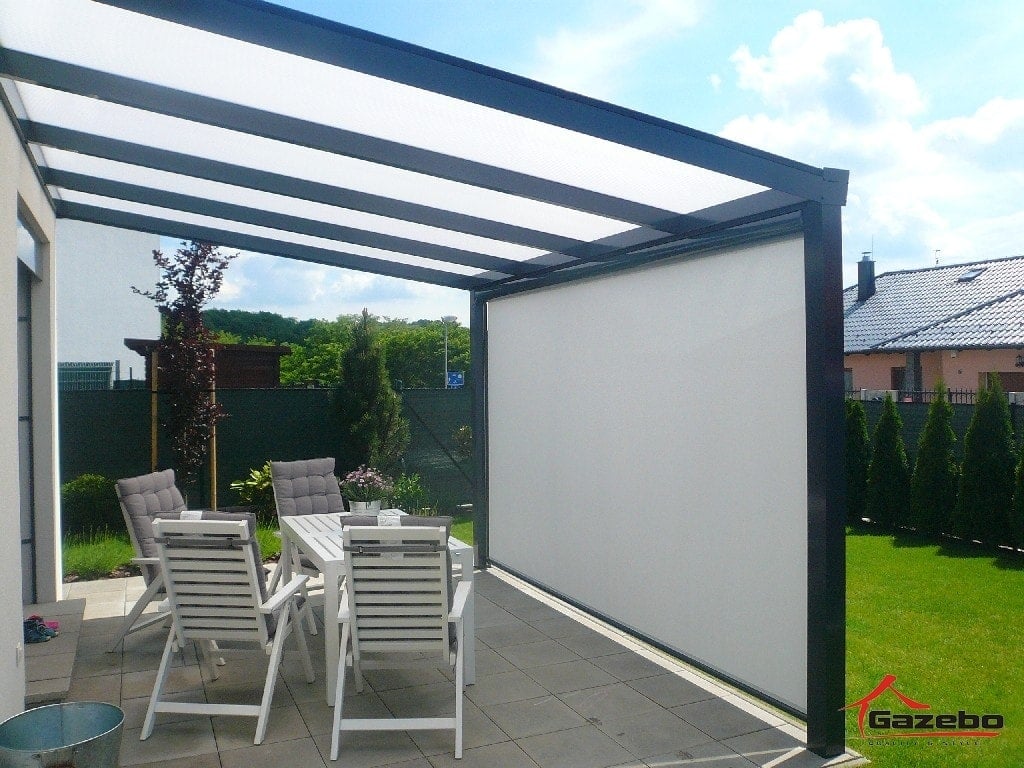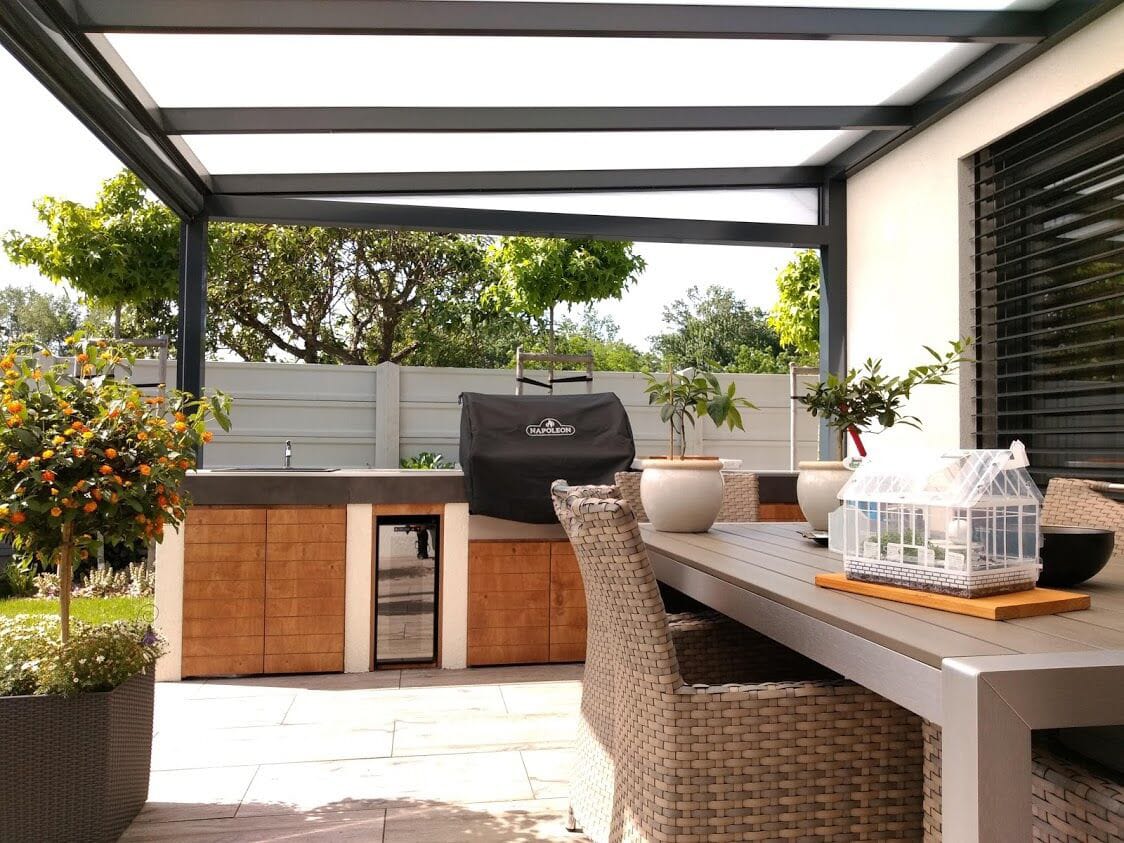 What makes aluminum pergolas special?
Delivery time of aluminum pergola
Therefore, you can be sure that if you opt for an aluminum pergola, you will be satisfied!
The fact that aluminum pergolas are truly exceptional will convince you in particular of the following properties: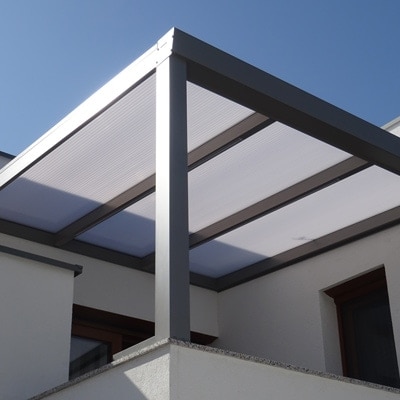 Premium quality
Aluminium is practically indestructible. It is stainless, resist pressure and hit. If you want a good quality, durable pergola, but aren't sure about the material, go for aluminium.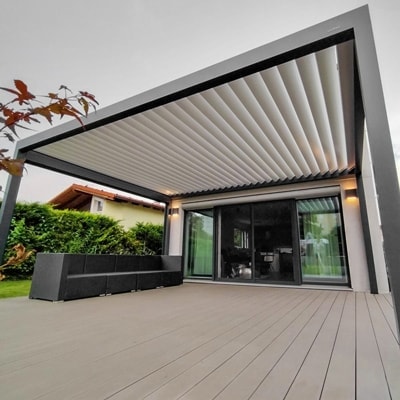 State-of-the-art design
Each of our aluminium pergolas has a spectacular state-of-the-art design. You will definitely not get tired of it.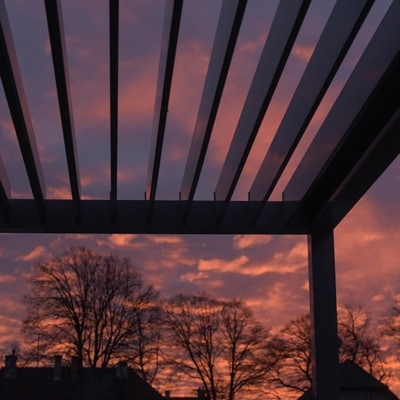 Durability
Thanks to the exceptional features of the aluminium, your pergola will serve you for many years with a unchanged appearance, quality and versatility.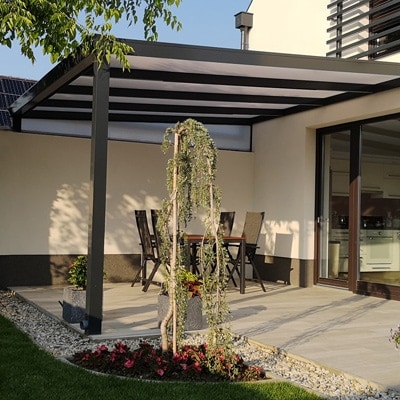 Minimum maintenance
Or rather no maintenance! Simply wash the aluminum pergolas if they get dirty. There is no need to paint them, sand them or otherwise take care of them.
Prices of our aluminium pergolas
Our aluminium pergolas target those who want premium quality and design that affects the price which is still lower than the wooden pergolas. Quality has its price.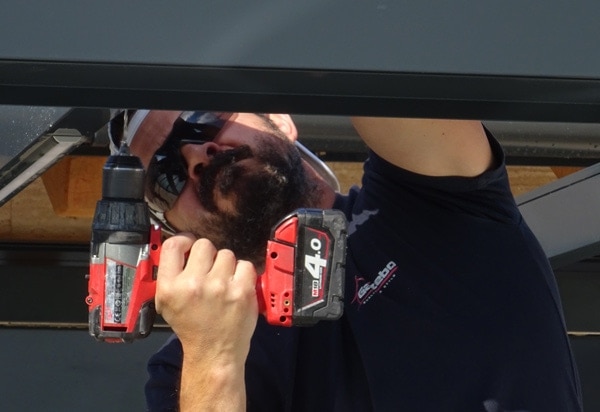 Setting up the aluminium pergola
How is the pergola set up at your home? You can rest assured, it is not a time consuming process. It only takes 1-2 days depending on its size and model.
We start the setting up with cementing the foundation that is needed to fix the pergola. This is needed if your terrace does not have a concrete floor or the pergola stands alone at part of the garden without concrete cover. If you cannot make the foundation yourself, we are happy to help you with it.
There is nothing complicated about setting up a pergola. Our clients are usually interested in further details of setting up a pergola and its accessories. If you choose one of our glass covered aluminium pergola, it can be complemented with rolling blinds operated by a smart pulley system. 
The more the blind is pulled out of its case the tighter it is. Our pergolas can be complemented with a front or top blind at any time after installing the pergola.
The blind is has a long life-span. It is made of a rubber-coated perforated material that resists water, frost, wind and sun, as well. It maintains 90% of its features even after ten year's use. The 10 mm thick safety glass roof of the aluminium pergola is extremely sound, too. You can even step on it.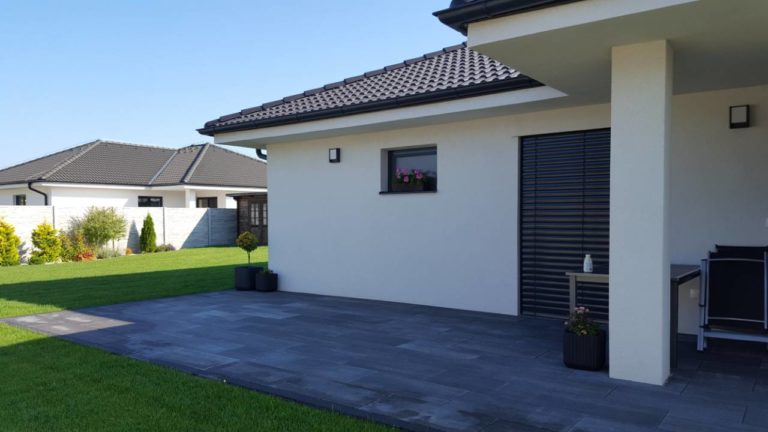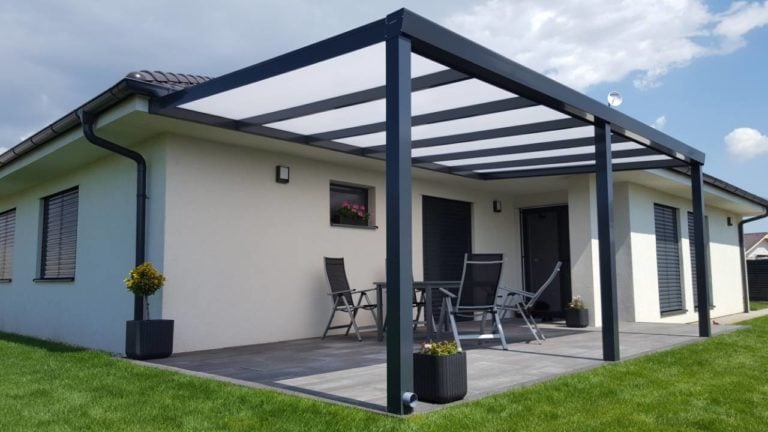 Integrated gutter and maintenance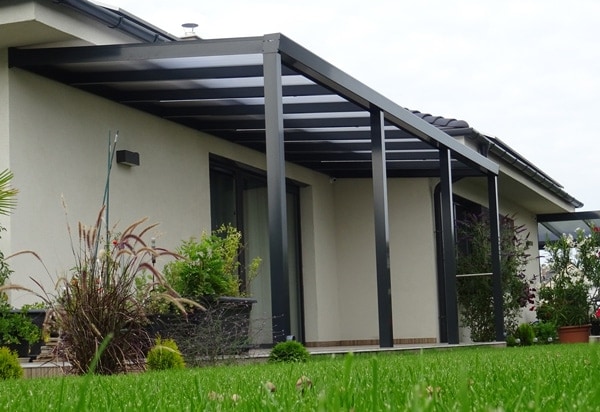 Integrated gutter and maintenance
Every aluminium pergola has an integrated water-pipe inside its pillars, too. This means that there is no need for extra drain piping. Special attention has to be paid to the inclination of the roof of the pergola with some of our models. This generally means 8 degrees that is equal to 14 cm/m but in some cases 4 degree (7cm/m) is sufficient.
Every aluminium pergola has an integrated water-pipe inside its pillars to channel rain water falling on its roof. For a safe use of our pergolas with glass or slat roofs, it should be noted that no swings or hammocks should be attached to their structure as these constructions do not bear steady vibration. We are happy to apply small screw holes on the aluminium pergolas for hooks that can carry lightweight potted plants.
You can opt for LED lights before the production of the pergola as the LED wires are installed directly into the aluminium structure during production.
How to maintain the aluminium pergola
Our aluminium pergolas are practically maintenance-free and require minimal care, which is why they are among our most popular products. A simple vet cloth is enough to clean them from stains. Besides, the aluminium pergola is stainless and will look as new after years of use without any protective coating.