Gazebo is elegant addition and improvements to any garden and yard. Not only do they offer attractive features, but they are also a treat for the eye. Gazebos allows you to expand the living space of your home and significantly prolong your enjoyment of the external housing for three or even four seasons.
Gazebo is a free-standing structure with a roof and open sides. Gazebo may have a square, rectangular, or special shape. They can only come from the roof and support columns, or may be even lower and makes it possible to add doors and windows, benches and connect to the wall for permanent seating. However, gazebos can also be a temporary structure known as seasonal gazebos that can be built, whenever and wherever you need them.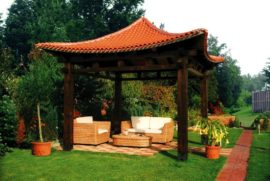 What can I do with a gazebo?
Gazebo is most often used simply as a place of rest and relaxation, or as sitting in the shade. Depending on the size, you can put in the gazebo garden furniture such as chairs, tables and chairs, or even garden benches to maximize the enjoyment and comfort. In this way Gazebo also extends part of the living space.
Garden gazebo is ideal for social events – is the perfect venue for barbecues or some external party. Very popular use today to have summer houses as a place for a garden wedding.
Some people even use their outdoor gazebo as a fitness center, or as a place of prayer and meditation. Increasingly popular is the use gazebo as home spa, providing sufficient privacy. For gardeners, Gazebo is place where they can promote flowers or avoiding direct, intense sunlight. In fact, gazebos capabilities and applications are virtually limitless.
What is important when choosing a gazebo?
Location, Location!
Choosing the right location for your gazebo can have a dramatic impact on how much you are able to enjoy it. After answering three simple questions you can quickly narrow down the possibilities and focus on where and how your gazebo will look like, and serve best for you.
What will be gazebo serve?
This is the most important question that must be answered, because its use will help you determine where to place your gazebo. If you would like to use your gazebo for outdoor dining, then it would be wise to place it closer to home, so you do not constantly running in and out for supplies. If it's a quiet place to read and relax, place the gazebo next to the house, where you have more room. Gazebos are also commonly used for swimming pool and outdoor kitchen, which serves mainly as shade on hot summer days.
What view would you like to have from your gazebo?
It is also very necessary to decide on what you want to watch from your gazebo. If you are near a water tank located next to it would surely have used its maximum potential. Sound and beauty of water near gazebo comming with comfort in perfect harmony. Located gazebo on the site overlooking the garden, flowers and mountains is beneficial for a person who works hard and is looking for a bit of peace and relaxation at home.
Selecting an area that has a view of your house will give you the opportunity not only to admire your home, but keep an eye on children when they are playing.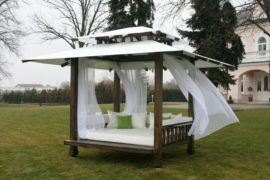 What would be your ideal look of Gazebo?
Just like you have the best view of the gazebo, many owners want to have a beautiful view of their gazebo. Gazebos are structures that add to the beauty of your property.
Everything is a matter of your priorities and how you want to use your gazebo. Many homeowners simply buys a gazebo to enhance the appearance of your property so they want to put in to fill empty space in the garden.
So if you are planning to install a gazebo, remember to ask yourself these three important questions. It will help you decide how best to use the gazebo.
All our products can be see on page products. You can contact us and we call you same day.