Day one
After having delivered the components of the Milan wooden pergola to our customers home, we are ready to start its setup.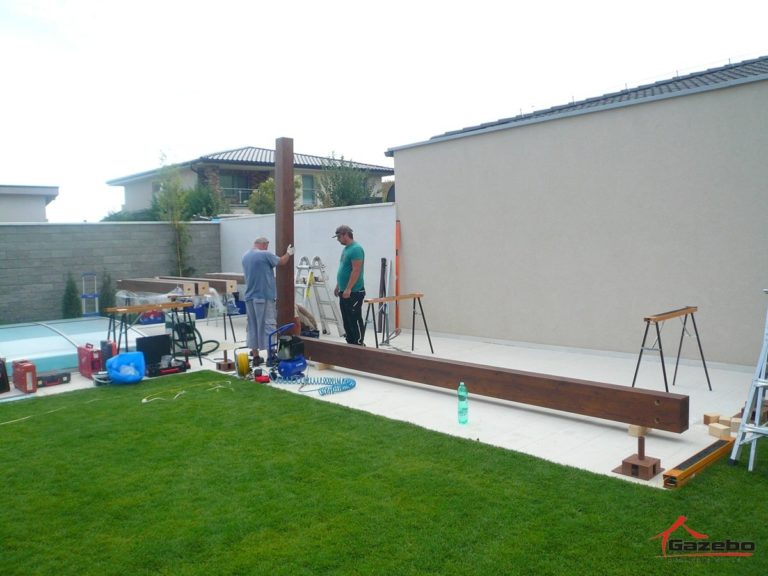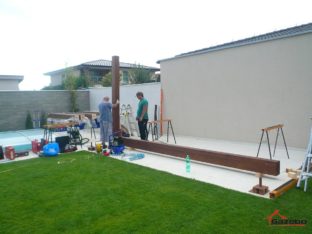 The standalone Milan wooden pergola has invisible and extremely strong fittings. Strong fittings allow for construction without corner braces that would otherwise disturb the simple design of the pergola. But do not judge a book by its cover! The simpler is the design the more complicated are the fittings.
Strong metal ground stiffeners provide the standalone wooden pergola with stability.
The structure of the wooden pergola is set up. Bearing bars with notches on the ends come next.
Day Two
We start by installing rubber on the top of the pergola that will carry the glued safety glasses.
The glass is installed on the wooden pergola.
We start installing the aluminium fixing slats on the glass. We use only the best quality fixing slats. There is a breathable EDPM outdoor rubber membrane installed into them that fits perfectly tight with the slightly inclining wooden pergola. Other products of poorer quality could lead to leaking and later flooding after a few years of use.
Day Three
Day three is all about fine-tuning the details of the Milan wooden pergola. These nitty-gritty details are the most important for us otherwise little imperfections could destroy the pure design of our pergolas. We constantly aim for innovative and groundbreaking solutions in design and construction.