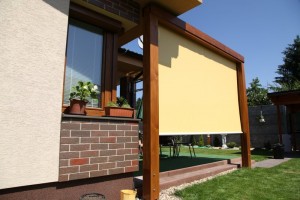 Scrolling screen solar shading.
Sleek, modern, garden feature, which ensures your protection against strong sunlight. It also offers a sense of privacy at any time when you need it.
Your comfort is increased by motor winding system on the remote control.
Quality canvas resists UV radiation and strong winds.Used material is made from perforated screens, so you always have an overview of what is happening behind it, while the other side is not visible, it is opaque.
"The hallmark of exclusivity" All our models of garden gazebos and pergolas are provided with engraved brass plate.