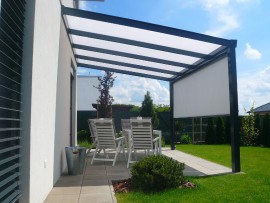 Aluminium Pergola
Economic Class series is for those who like to keep a happy medium.
Aluminum pergolas Economic Class are dimensionally stable throughout life. Not crack, warp like a pergola made from ordinary sawn prisms. Maintenance-free is another strong point of aluminum pergolas Economic Class.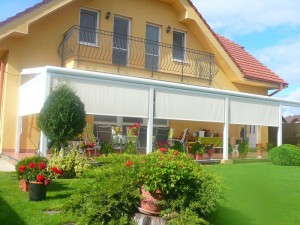 Decorative cornice
Decorative cornice is the distinguishing feature of model Economic Class. It is installed on hidden drainage channel from which rainwater is routed inside the column. No visible gutters!
---
Economic Class:
20 standard sizes
Static review
Possibility to order cover strips of rubber seals
16mm polycarbonate roofing milk / clear + other colors
Available basic colors white RAL 9016, anthracite RAL 7016, silver RAL 9006, brown RAL 9017
Available non-standard color decorations
Certificate ISO 9001:2009
---
Rainfall
Polycarbonate sheets such as roofing on an aluminum pergola should not be drilled or wound for a length of time to maintain 100% of the functionality before braiding. We have our own sophisticated system for aluminum pergolas when we can overcome these obstacles without disturbing the roofing.
---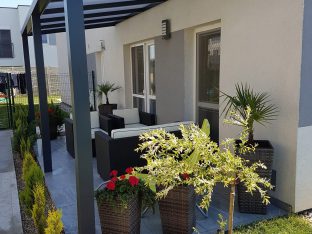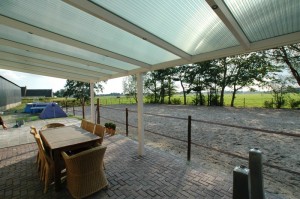 How to overcome the obstacle?
Rain ducts and chimneys are common obstacles when mounting aluminum pergolas. The easiest way to overcome these obstacles is to cut a certain diameter into polycarbonate and push the rainfall through. This solution, is not the easiest for a long-term aesthetic and functional aspect.
---
Installation of aluminum pergola Economic class
Modern design and maintenance-free are the main advantages of our pergolas.
---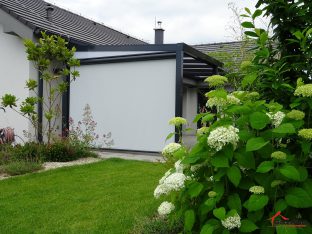 Versatility
The advantage of our aluminum pergolas is their versatility. You can add them to the front and side shade at any time, when you find out that you need it.
---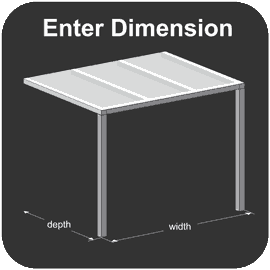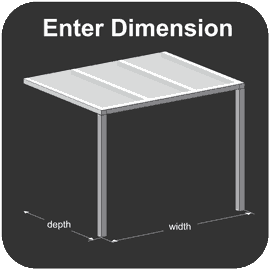 Type
installation
Number of poles
Dimensions width x depth (mm)
Colour
Pergola price without VAT
Mounting price without VAT
E1
2
Anthracite/white/silver/brown
3000 x 2500
1408 €
300 €
E2
2
Anthracite/white/silver/brown
4000 x 2500
1 783 €
375 €
E3
3
Anthracite/white/silver/brown
5000 x 2500
2 180 €
445 €
E4
3
Anthracite/white/silver/brown
6000 x 2500
2 456 €
519 €
E5
3
Anthracite/white/silver/brown
7000 x 2500
2 723 €
594 €
E6
2
Anthracite/white/silver/brown
3000 x 3000
1 617 €
300 €
E7
2
Anthracite/white/silver/brown
4000 x 3000
1 867 €
375 €
E8
3
Anthracite/white/silver/brown
5000 x 3000
2 297 €
445 €
E9
3
Anthracite/white/silver/brown
6000 x 3000
2 639 €
519 €
E10
3
Anthracite/white/silver/brown
7000 x 3000
3 014 €
594 €
E11
2
Anthracite/white/silver/brown
3000 x 3500
1 817 €
300 €
E12
2
Anthracite/white/silver/brown
4000 x 3500
2 108 €
375 €
E13
3
Anthracite/white/silver/brown
5000 x 3500
2 547 €
445 €
E14
3
Anthracite/white/silver/brown
6000 x 3500
2 948 €
519 €
E15
3
Anthracite/white/silver/brown
7000 x 3500
3 364 €
594 €
E16
2
Anthracite/white/silver/brown
3000 x 4000
1 833 €
300 €
E17
2
Anthracite/white/silver/brown
4000 x 4000
2 400 €
375 €
E18
3
Anthracite/white/silver/brown
5000 x 4000
2 855€
445€
E19
3
Anthracite/white/silver/brown
6000 x 4000
3 214 €
519 €
E20
3
Anthracite/white/silver/brown
7000 x 4000
3614 €
594 €