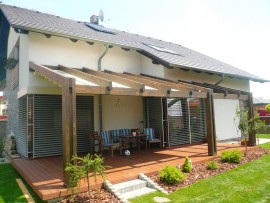 Garden pergola Rio Grande based on the fundamental model Rio. Offers further possibilities of use.
Shading system is driven by a motor running on the remote control. It is designed to protect you from strong sunlight.
And if finds you well during a summer storm underway Garden Party, you do not have to run into house in front of her, you can feel free to relax by looking at raindrops falling into your garden.
Garden pergola Rio Grande is grandiose in design and its versatility! This is not just a cheap advertising gimmick, it's a reality !
The whole processing of pergola Rio Grande is developed to the smallest detail. The quality of the materials will customer valued even after several years of use.